Bucket Truck
Sales, Service, Parts, & Warranty
Bucket truck, digger derrick and cable placer Distributor
A wholly-owned subsidiary of Time Manufacturing Company, we are a distributor of Versalift aerial lifts, digger derricks and cable placers. Located in Waco, Texas, Versalift Southwest occupies a 16-acre, state of the art assembly and upfitting facility.  We sell, service, and provide parts for Versalift, Skybird, Ruthmann and Condor products in the states of Texas, Oklahoma, Arkansas and Louisiana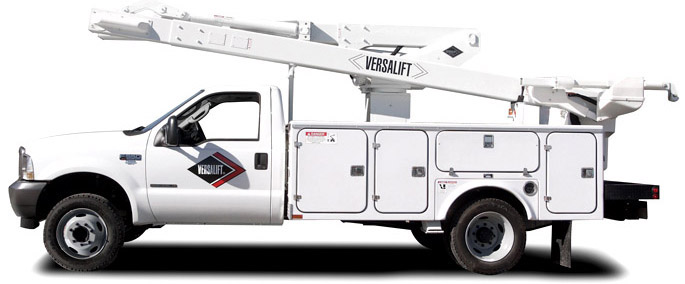 About Versalift Southwest
Our state-of-the-art facility affords us the opportunity to install, sell and service new Versalift aerial lifts in a manner that allows us to build partnerships with our customers. It is our goal to ensure safety, quality and reliability in every product we deliver.
We begin by listening to our customers and asking about their needs. It is listening that allows us to make continual improvements to our products. Our experienced engineers continue to develop a complete line of Versalift bucket trucks, cable placers and digger derricks. Based on our customers' feedback, we continuously improve the products that help our customers successfully tackle the daily challenges of their work.
Additional Components we Stock and Service
Pumps and PTOs, Pintle and Tow Hitches, Outrigger Pads, Hydraulic Hoses and Fittings, Hydraulic Tools and Accessories, Go Lights, Strobe Lights, Beacon Lights, Aerial Safety Equipment, Auger Bits & Tooling, Power Inverters, Safety Decals & Placards, Winch Rope, Truck Toolboxes, Air Compressors, Bucket Truck Accessories and Biodegradable Oils.
Parts & Service
At Versalift Southwest, we are able to identify and obtain the parts your equipment needs to remain in service, and have a service department that can quickly and efficiently maintain your equipment. Our parts and service departments together make a knowledgeable and dependable team that supports our clients' need to get their equipment back on the road.
Versalift Southwest is an OEM parts supplier for:
Versalift, Condor, Phoenix, and Ruthmann Aerial Devices

Braden Winch Products

Masterrack Van Interiors

Sortimo Van Interiors

Reading Truck Bodies

Brand FX & Dakota Bodies

Liftmoore Cranes

VMAC Air Compressors
The Links to the Right Will Take You to Versalift.com For the Most Updated Specification on New Aerial Lifts
Our Service Promise
Versalift Southwest Service Department is open
Monday – Friday, 7:00am to 5:00pm.
Our factory-trained service team ensures that quality is maintained throughout the customer service and equipment service processes. Our service department works to get your equipment repaired properly and back in service as quickly as possible. Combined with the resources of our parts department, our service team is able to deliver quality work on a typically tight timeline.
We perform annual ANSI inspections for our customers

We perform Planned Maintenance Inspections

We can perform all Repairs in house.
Please contact our service department to schedule an appointment.
Versalift Southwest – Service Areas
Texas
Bucket trucks, manufactured in the heart of Texas by Versalift, since 1965.
Texas is an important market for bucket trucks, because the state has such a significant population. Most of the power grid in Texas is built above ground, and so the electric power transmission and distribution grids must be maintained by high reach aerial equipment. Covering nearly 300,000 square miles, the state is home to more than 26 million people. Nearly three quarters of Texans live within 200 miles of Austin, and that includes the people of Versalift Southwest. Texas is the seat of the Texas Interconnection, one of three minor grids that make up the power grid that supports the Continental United States. This grid is called ERCOT, and was formed in 1970.
Oklahoma
Oklahoma has a population of nearly 4 million people and is a major energy producer for the United States. Oklahoma, as a whole, is a top national producer in net electricity generation from wind. Additionally, the state is one of the top crude oil producers in the nation. Because Oklahoma's massive energy industry has growing high-reach infrastructure, Versalift Southwest works closely with Investor Owned Utilities, mineral extraction organizations and other groups that work in support of the energy industry.
Arkansas
Versalift Southwest is proud to serve the great American state of Arkansas. With a population of greater than three million, the state is home to some of the world's most recognizable brands, including Wal-Mart, Dillards and Sam's Club. Despite these major economic drivers, the majority of people living in Arkansas live in smaller towns. As is the case with Texas, the majority of the electric power infrastructure in Arkansas is built above the ground, highlighting the region's ongoing need for the bucket trucks, cable placers and digger derricks to support, manage and maintain its infrastructure to ensure a consistent supply of electric power.
Louisiana
Louisiana has an economy that is largely driven by agriculture. Louisiana is a heavy net exporter of seafood, and it also has a developed industrial economy. One of the largest industries in Louisiana is petroleum. Louisiana is a coastal state where much of the population lives at, or within mere feet of, sea level. Interestingly, New Orleans, the state's most famous and populous city, is officially registered as existing at eight feet below sea level. As a result of the lack of elevation in the state, all electric power utilities run overhead. Louisiana has thousands of miles of electric power infrastructure, forest and highway that must be maintained by trained technicians with high reach access. Versalift Southwest works closely with many of the state's corporations, cooperatives, government organizations and municipalities to deliver new bucket trucks, cable placers and digger derricks.